Hello! Happy
What I Ate Wednesday
everyone! Thanks as always to Jenn for getting us all together :)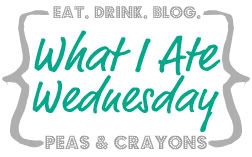 This post will be based on Monday's eats as a) I didn't take many photos yesterday and b) pretty much everyone I ate/drank yesterday was either or coffee or chocolate covered...whoops!
Monday, on the other hand, started with this delicious pumpkin bread...
My Mum bought this at
the Christmas Fayre we went to on Saturday
. She'd planned to give me half of it anyway, but it was a bit too sweet for her so she gave me most of it, yum! I love it, it is sweet but also spiced and 100% delcious!
As well as having a couple of thin slices as a pre-school run snack, the pumpkin bread also featured in my breakfast. This was divine - Yeo Valley spiced apple yoghurt, an apple that I diced and microwaved with some cinnamon and a tsp of sugar, some cider apple butter (also from the Christmas Fayre) and a slice of pumpkin bread...
I loved this. It felt like a lighter variation of the appley French toast I ate on Sunday. There probably wasn't actually much difference calorie-wise, but hey ho, my mind/stomach thought it was lighter!!
Lunch on Monday was leftovers from Sunday night -
Mama Pea's Quinoa Courgette lasagne
. It looked prettier than this the first time I served it!!
Yum. Liam wasn't
as
keen on this as the rest of us were, as he has decided he doesn't like courgette. Grrr. He definitely praised this dish the three or four times I've cooked it in the past though, so I will probably still cook it again in the future!! ;-)
Mid-afternoon I had another, unpictured, slice of pumpkin bread. That loaf is going to be gone before I know it - I must try to recreate it soon!
Izzy has started swimming lessons after school on Mondays. It is a bit of a rush to get from school down to her swimming pool, and then keeping Toby enternained during her half hour lesson certainly keeps me on my toes...but she loves it, so it is worth it. Last week was her first week, and afterwards the teachers comment was "It's great that Izzy has the confidence to go underwater, and has been encouraging the other children by doing so, but she does need to understand that when I'm giving instructions she needs to stay above water to listen." Haha, whoops...I was saying to the other mothers that I was most worried about Izzy having
too much
confidence and not listening!! This week was better though, I think - the teacher didn't say anything to me anyway!
I needed an easy dinner to cook after swimming, so I cooked some wholewheat spaghetti and made a sauce using a tin of green lentils, a punnet of finely chopped mushrooms, garlic, a tin of chopped tomato and lots of vegan worcester sauce.
I put a little cheese on top after this photo as well. Tasty, but look at my portion size compared to Liam's - I'm so jealous that he can eat whatever/however much he likes and not gain any weight!!
Unfortunately I find that no matter how much or how little I eat at dinner time, the munchies always strike in the evening. On Monday evening I ended up eating a Nakd gingerbread bar (which seemed more spicy than I remembered - anyone else?)...
and a whole bar of Conscious Cherry Christmas chocolate. I love this but always get so annoyed with myself when I eat a whole bar at once as it is so expensive!!
If you cook for more than yourself, how do you deal with differing portion sizes? Or even if you cook for yourself? When I used to just cook for myself, I used to find it (relatively) easy as I used to weigh my carbs and split my main dish into freezer bags for leftovers as I was serving up. Now I cook for all of us, I often find myself serving the same size portions for me and Liam!! Not a good idea when he is a good stone lighter than me and trying to gain weight, whereas I am trying to lose it! The last couple of days, I have been making a conscious effort to serve myself smaller portions, but I've still been cooking the same amount as usual so Liam has been getting huge servings!! I also can (rarely) never not finish a chocolate bar - I don't understand when people say that raw chocolate is so rich that they only eat a piece or two...not me!! I sometimes can control myself around 100g bars, but usually end up eating the whole bar through lots of nibbles over a few hours! Long rambly "confession" clearly shows my lack of self-control!!