Morning everyone! Happy
What I Ate Wednesday
! Thanks Jenn :)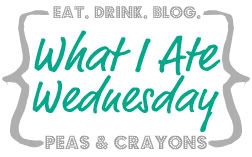 Sorry for my absence over the last few days - not really sure what happened there, the days just slipped away from me and I hardly took any photos on Sunday or Monday!
This post is based on yesterday's foods. I've been trying to keep my meals quite simple to help me stay on track with my eating, but inevitably some unpictured chocolatey treats have snuck in!
The day started with a good breakfast though - mashed banana porridge,
homemade raspberry jam
in a not-so-empty Dark Chocolate Dreams jar...
This was delicious - the jam, which is a bit too thick to eat cold, went lovely and melty. Only slight "ooops" was that this breakfast was over 700 calories - turns out there were still 80g of nut butter in the jar, but I didn't find that out until I'd already eaten breakfast!
As I had a bigger breakfast than planned, I kept lunch quite light - steamed asparagus with two poached eggs, alongside my 2nd coffee of the day...
Yum. This is one of my favourite "healthy treat" meals.
There was no chance of me going hungry with a yummy afternoon snack planned. Yesterday morning I made a batch of
Averie's Fudgy Brownies
(without Nutella or frosting) for my Grandma and her friends to enjoy tomorrow afternoon. Very sad we couldn't keep them all as they were my best brownies so far (I decreased the sugar a bit further to 375g and added an extra 20g flour as my Grandma wanted them to be slightly cakey). Still plenty fudgy, but with a slightly "smoother" texture. Anyway, my Grandma had said I could keep one or two, so I saved one for Liam and snuck a corner piece for myself - delish!
After enjoying my brownie, Toby and I set off in the rain to pick Izzy up from school. We got soaked! But that's ok because horrible weather = hot chocolate!
I was also very excited yesterday afternoon to find these!
These are some of the things I received in a blog swap ages ago - Liam had placed another fruit bowl on top of this fruit bowl so I hadn't known where they were!! Yipee, nut butter sachets back in my life! :-D The larabar was gone instantly - Toby and I shared it as an extra snack! I liked this flavour better than the other ones I've tried - the other ones were too salty for me whereas the salt wasn't really noticeable in this one so it was just like a Nakd bar, yum.
Dinner was a meal we all like and have regularly - grilled tofu (which I marinated in a soy sauce-brown sugar mix this time) with brown rice and roasted red kabocha squash.
I roasted the squash with a little maple syrup and cinnamon, and I added a some soy sauce to the rice - love the salty-sweet combo! I have some leftover squash to eat for today's lunch as well, can't wait!
Yesterday evening I ended up eating quite a few Lidl-brand 'Guylian' chocolates - I bought the box as a "just because" present for Liam, but he sat next to me on the sofa and shared...I have no willpower!!!
What was the best thing you ate today/yesterday? Have you started any winter traditions yet?
Hot chocolates with whipped cream is rapidly becoming a tradition here - whenever it's cold or wet on the walk home from school, Izzy asks for them! We had quite a few last winter, but only once the snow had started...no complaints for the early start this year, I love hot chocolate...and love the whipped cream even more!!