Happy
What I Ate Wednesday
everyone! I hope you're all enjoying the day - I love seeing what everyone eats on WIAW - such a great idea by
Jenn
!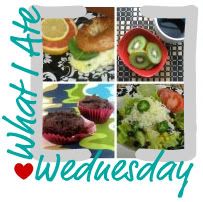 This post is based on yesterday's food, as I write most of my blog posts in the morning when Toby has his nap - by the time evening rolls round I'm usually way too tired to do anything more than read other people's blog posts so this works better for me!
Yesterday, I woke up in the mood for chocolate. Not that that's particularly unusual, but yesterday I decided to properly do something about it. Enter, Oh She Glow's
Chocolate Cake Batter Smoothie
for breakfast!
Mmmm, this was a fantastic start to the day!
I've been eating my breakfast quite late recently - around 10.30am - as I've been waiting until Toby has his nap so I can enjoy my breakfast in peace. His nap time is my "me time", so this breakfast was immediately followed by taking photos of my
Strawberry Coconut Muffins
, which of course involved eating the one I bit in to...
Not really necessary as I was still full from my
bowl of chocolate
breakfast, but these muffins were so tasty I couldn't resist!
It worked out ok though as lunch ended up being a late one. I decided to wait until Liam got home at 2pm to eat, as I'd already eaten so much late morning, but we then ended up chatting so didn't eat until almost 3pm! Ugly photo, but delicious lunch - Vogel's sunflower and barley bread + Pure spread + tomato ketchup + Linda McCartney sausages = quick, easy, tasty lunch!
I don't really like Quorn products or many of the other fake "meat" items you can buy, but I do like the products I've tried in the Linda McCartney range, so I keep a box of these sausages in the freezer for when I'm wanting a quick sausage sarnie!
An hour or so after lunch, I got a text from my Mum who had been catching up on my blog & therefore fancied a muffin! So she came round and I ate a muffin as well...
The children both had one too. I wasn't surprised that Toby gobbled his down - he eats anything - but Izzy is normally not the biggest cake fan - she usually just eats the icing and leaves the cake, so I wasn't really expecting her to like these. However, she loved it! She ate hers faster than Toby (normally unheard of!) and immediately asked for another!! Haha, no go, but I'm glad she liked them!
Dinner was something I'd been looking forward to for a few days, but kept forgetting to take the wraps out of the freezer. A deconstructed version of these
sweet potato and kidney bean burritos
. I served everything separately so we could all make our own wraps. Kidney bean mix (which I accidentally added a bit too much chilli powder to), grated cheddar, guacamole (just two avocadoes fork mashed with lemon juice and chilli powder), baked sweet potatoes and sour cream dip (grabbed from the fridge to compensate for the spicy kidney bean mix!)...
plus seedy wraps. Izzy loves making up her own meals so this worked great - she could avoid the spicy kidney beans, I could avoid the cheese (must find some non-dairy cheese!) and I thought Liam would avoid the guacamole, but actually he loved it! Toby just picked at some wrap and sweet potato, he wasn't too keen on this meal. I had two wraps with everything but the cheese...
Delicious, I loved how vibrant all the colours were!
These tasted amazing, but I made a mistake. I have been avoiding dairy for the last few days or so as I realised it was possibly the cause of the agonising stomach pains and other tummy troubles I've been getting. So when I planned this meal, I deliberately made it so that I could avoid the cheese. But then when I made the bean mix too spicy by mistake, I grabbed the sour cream from the fridge without even thinking about it being dairy. Unfortunately my tummy didn't forget - I spent the rest of the evening in agony after this meal, so that was the last of the food for my WIAW post.
Question: for those of you with intolerances to food, how long does your tummy/any other symptoms usually take to react after eating something? Or, for anyone, after you eat something slightly 'dodgy'? My tummy started playing up within 10 minutes of finishing eating, so probably about half an hour after I started the meal. Liam reckons that is too quick, and my tummy must have been reacting to something I ate earlier in the day. But I'm sure it was the sour cream and/or the spicy kidney bean mix - everything else I ate yesterday was fairly 'safe' I think. Grrr. Annoying either way, I want to be able to enjoy my food without worrying about the consequences! :( Thankfully I've woken up this morning and my tummy is fine, but still, not pleasant while it lasted last night.
Sorry to end the post on a miserable note! You can tell me about your favourite Mexican food instead if you like! :) I'm loving Mexican food recently, but don't like the texture of beans, so meals like the above - where the kidney beans are mashed - work well for me. It would be great to get some new ideas for meals as well!