It's
What I Ate Wednesday
again! :)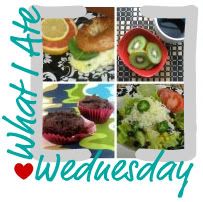 I was really glad to see today come round for the blog, as, with Izzy's birthday etc, I feel the I haven't been writing enough about food recently, so an excuse to focus on food is good by me! Thanks Jenn! :)
Today started off with lots of coffee...
For some reason, when Liam's alarm went off at 6am I felt wide awake so came downstairs with him...I could've had an extra hour's sleep!! So two of these were consumed before the children woke up.
Then it was breakfast time. Izzy requested a smoothie - "a white one this time please" - so I did my best to please her...
Tropical 'White' Smoothie
(serves 2)
1.5 bananas
150g pineapple, frozen
splash coconut extract (Maria - I bought this from iHerb)
200ml milk
1 tbsp coconut butter
Izzy topped hers with desiccated coconut & Lizi's chocolate granola...
Whereas I opted for one chopped medjool date, desiccated coconut and a tsp of coconut butter...
This was so delicious - I love the pineapple coconut combo, and the dates provided chewy contrast whereas the coconut butter hardened up in the cool smoothie and gave a nice bite. Yum!
Once Toby had woken up from his nap, I took the children down into the town. Got to make the most of the sunshine while it lasts! We first went to the recently updated play park...
And then we headed over to the food vans for lunch. Course #1 - a cheese and sweetcorn pancake...
Rather than get lots of food that might go to waste, I just bought one thing at a time and shared it with both children (Liam was at work)...this pancake was really good :)
Course #2 was the same falafel pitta that
I had on Friday night
...
This is so delicious, but really messy to eat - I got tahini all over my skirt! The salad apparently has 13 different components, yum, there were (of course) leaves, grated carrot, plump raisins, at least 2 types of seeds etc, much more interesting that you're standard pitta!!
After lunch, we walked along the sea front and stopped to watch some of the folkie stuff...
before heading to the beach...
No more photos from the beach as I was too busy keeping an eye on the children! There were 4 adults to 7 children which shouldn't have been
too
difficult, but when there are 3 babies (10 weeks, 12 months, 19 months) plus a 2 year old, 4 year old, 5 year old and 6 year old it makes a bit more tricky - the older ones wanted to go into the sea (with Izzy being a little too confident for her own good!!) whilst the babies needed to stay in the shade,and the 2 year old kinda wandered in random directions!! It worked fine though, was just busy. Busy but good fun! :) Apparently it's going to rain tomorrow so I was determined to make the most of the sunshine whilst it was still here!!
On the way home from the beach, we stopped for ice lollies. I had a cider lolly for the first time in years!
As the package says, it was very refreshing!
Once home, iced coffee was needed!
Three of these were consumed in quick succession! Ice + cold coffee + milk + vanilla stevia drops = bliss!!
I thought dinner was going to be a fail, and was planning to post about what we ate last night instead. But actually, for an experiment, it turned out surprisingly well!
Curried Butternut Squash & Cauliflower Burgers
(makes 10-12)
(adapted from
Choosing Raw's Sweet Potato Edamame Burgers
)
1 butternut squash (mine had 500g flesh once cooked)
1-2 tbsp oil
1 small cauliflower (mine weighed 375g once cooked)
200g quinoa flakes
40g curry paste, to taste
First, slice the butternut squash in half, scoop out the seeds and drizzle with oil. Roast at 180C for 45 minutes.
Chop the cauliflower into small florets and boil for about 5 minutes.
3. In the food processor, blitz together the butternut squash flesh, drained cauliflower, quinoa flakes and curry paste, with a little water if necessary. (I had to do this in 2 batches due to the size of my food processor)
4. Mould into burgers on lined baking trays (or just splat tablespoons on if you're me!) I used two of these trays...
5. Bake at 170C for 30 minutes, turning half way through.
I just served ours with fried sesame smoked tofu, as we are on operation use-up before going away on Friday, but we all agreed it would have been better if there had been some green on the plate!!
Liam is a self-proclaimed cauliflower hater, but he declared that these were "really yummy" (that's when I knew they were a success!!) and both he and Isabelle went back for seconds! They had a lovely sweet flavour from the butternut squash, with a slight hint of curry. Delicious. Ignore the fact that they were served with sesame tofu - it went ok, but I only really cooked it because it needed eating, they'd have been better with some green veg and some sweet potato wedges, or in the curry direction, Liam called them "a healthier version of onion bhajis" so I guess you could go with that!!
After dinner, we couldn't resist opening the 2nd layer of Izzy's birthday box of chocolates...
I had a strawberry crush and a lemon meringue...a (very!) sweet treat to finish off the meal!
And that was my Wednesday!
What is the best thing you've eaten today?
Mine would be the falafel pitta I think, the salad especially was so flavourful!