It's
What I Ate Wednesday
time again, happy Wednesday everyone! Thanks, as always, to
Jenn
for organising the party!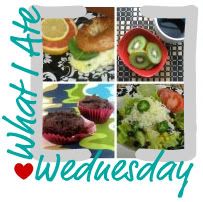 Pretty much every morning recently, I've been craving pancakes. Yesterday was no exception, so I made a batch of
pumpkin pancakes
. I changed the recipe slightly - using 40g pumpkin, 20ml milk instead of 60g pumpkin - which produced a lighter, fluffier pancake - I recommend following the change! I also used a mix of chocolate and peanut butter chips as I was all out of plain chocolate, yum! Topped with peanut butter...
The photos of this are a bit blurry as Toby liked the look of these pancakes too!
The taste was gorgeous though. Now that I have a pancake recipe that makes just enough for me, I want to make pancakes pretty much every day!
No proper pictures of yesterday's lunch as my friend came round and I completely forgot! This is what she brought last time though...
Yesterday I had one croissant with raspberry jam, and one chocolate torsade - those twisty pastries with chocolate chips and custard, delicious! This was about 11.30am so I called it lunch.
For dinner, we had
Mama Pea's Quinoa Pizza Casserole
topped with mozzarella and roasted peppers...
We all love this, as usual we all fought over the leftovers! Well, I say 'we', times like this I'm glad to be a fast eater - I finished before everyone else, so took half the leftovers, assuming only Liam would also want seconds. But then Izzy finished really quickly too, so Liam had to share his leftovers with her, haha, oops!!
After dinner, I fancied something sweet, so I had a
lemon drizzle cupcake...
I made these on Monday as my Auntie & Uncle were visiting. I love the crunchy lemon sugar layer between the cake and the icing, a great end to the day!
What was the best thing you ate today/yesterday? Do you like to end the day with something sweet or are you satisfied with a savoury meal as your last food??
No matter how delicious dinner is, I always crave something sweet afterwards - got to satisfy my sweet tooth before bedtime!