Good Morning!
Happy What I Ate Wednesday!
Wednesday seems to have come round so quickly this week!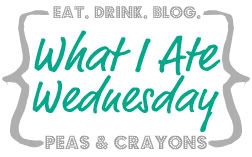 Thanks as always to Jenn, it's so nice to be able to see what everyone is eating once a week - the link-up is such a great idea! :)
Today post is based on Monday as usual, for some reason I always seem to struggle with taking photos on Tuesdays - indeed, yesterday
I only managed to take photos of two things!
I don't know about you, but I always struggle to get back into the weekday routine on Mondays. I'm lucky that I can come home after the school run, so I don't need to worry about eating breakfast before we rush out of the house. I did find time for a coffee though - a skinny latte with lots of white chocolate syrup:
Whittards were sold out of gingerbread syrup when I went in on Saturday. We don't have a shop particularly close to us so I bought a white chocolate syrup to keep me going, but it is (obviously) not the same. It just tastes sweet and confuses me as it hides the taste of the coffee and makes the drink more like a super sweet, not very chocolatey hot chocolate. Boo, I should have just bought vanilla syrup. I miss the sweet spiciness of gingerbread!
After I got home from dropping Izzy at school, I had planned to eat a proper breakfast. That didn't seem to happen though...instead, this did:
Liam bought me this big, 600g bag of lebkuchen from Lidl on Sunday (I checked - no gelatine - but thanks for the potential warning Maria!) and Izzy and I have already finished them! We ate loads on Sunday and she's been taking three in her lunchbox as her "treat", yum!
We like the white ones best, and the white stripey ones (of which there none left by Monday morning!) so when I saw a bag of just white and white stripey ones in Lidl yesterday morning, I had to buy them! I've managed not to open them yet though...only a matter of time!! I can't decide whether I prefer these or the
dark chocolate covered, apricot jam filled ones
. I love the crunchy icing on these, but then I love the other ones...a nice dilemma to have!! Last Christmas I only ate the chocolate apricot ones, so I'm glad I have branched out more this year! :)
Anyway, back to Monday! After "breakfast", I went in to the kitchen to make Liam some cheese and chive muffins (he takes two to work each morning for breakfast). It only takes five minutes max to make these, but when I came to check on Toby after putting them in the oven, I found this:
Awww! He carried on sleeping while I changed his nappy and put him into his cot, and then slept until 2pm!
The cheese muffins looked fantastic when they came out of the oven! I managed to resist having any on Monday, but did have one for lunch yesterday. Oops, I'll have to make some more muffins some time this week or Liam wont have enough come Monday morning - we always forget to make them on Sundays!
Lunch was therefore a late one. I'd forgotten to put sweet potatoes in the oven so I cooked up some fresh pasta instead. Ready in 2 minutes = my kind of meal. This was spinach and ricotta fresh tortellini, with ketchup and cheddar...just like my Mum used to do! :)
I love this, such a simple but tasty meal. My portion size was perhaps a bit too big though - the pack is meant to serve two and I was only sharing with a 23 month-old...he does love his pasta, but he didn't eat quite as much as me!!
*Newsflash of the post* - I went to the gym on Monday night! I reckon I hadn't been (or done any other exercise) for about 3 weeks, oops! I didn't work as hard as I could have done, but I reckon an hour at the gym, even only at moderate level, is better than an hour at home eating chocolate!
Chocolate was eaten when I got home though - mashed banana porridge with some dark chocolate salted caramels stirred through...
...served in an almost empty Justin's chocolate hazelnut butter jar:
Mmm, this made dragging myself out in the cold to the gym worth it! I adored the Justin's chocolate hazelnut butter (may have to order another jar soon) and the salty caramels mixed with the sweet banana porridge was perfect! For some reason I haven't been eating that much porridge recently. Last winter I ate it every day, but I suppose it hasn't been quite so cold this year. Well, yet anyway, I'm sure I'll be eating porridge regularly soon enough!
As we're nearly in December (and past Thanksgiving for my American readers)...what are your favourite Christmassy treats?
I'm not sure I'd even had lebkuchen before Christmas 2010, but it is fast becoming a favourite! I also love stollen, but my local Lidl have stopped selling the mini ones, much to my dismay, and I haven't got round to making it myself yet! Nearer to the big day I will also start eating lots of my Mum's homemade mince pies with lots of brandy butter, mmm! The shop-bought ones just don't live up to Mum's...maybe I should actually try making my own this year so I can have a constant supply! :-D Unfortunately Liam doesn't like any of the things I've just mentioned, which puts me off making them a bit. I've mentioned before that his family eat chocolate cake on Christmas Day instead of Christmas cake/pudding as a lot of them don't like dried fruit...I'm not sure I'll convert him on this one very easily!! ;-(