Morning everyone!
(actually it might be afternoon by the time I finish writing this post, but it will be morning somewhere!) I hope you're all having great days - it's such gorgeous weather out there today! I plan to make the most of it some more once Toby has had his nap - he's worn himself out after toddler group this morning! Today is also, of course,
What I Ate Wednesday
- thanks as always to the lovely
Jenn
for organising everything!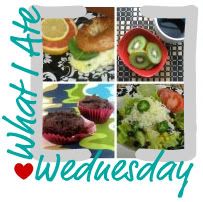 I've been struggling to find time to post in the evenings recently, as with Liam's new job by the time he gets home, has dinner etc there isn't much time left to spend together as it is, without me blogging! So I'm trying to get back into the habit of writing posts when Toby has his morning nap instead, which means this WIAW post is based on Tuesday's food.
Yesterday ended up being such a snacky day! My Grandma was coming for coffee after the morning school run, so I didn't bother having breakfast so that I could have more of these delicious things...
Chocolate Covered Katie's Four-Minute Coconut Macaroons!
These were a bit crumbly, but tasted delicious - I ended up eating 4 or 5 of these over the course of the morning. I also had one unpictured hot coffee, and two large iced coffees during the day, all sweetened with vanilla stevia. My Grandma likes me to make a pot of coffee when she comes round (indeed she even gave me money to buy a bag of ground coffee as coming here is a cheaper treat for her than going out for coffee!) but then she only drinks half a mug of coffee and I end up drinking the rest of the jug! I was feeling a bit jittery by the end of the day, oops!
Yesterday morning, a
Graze
box came through my door, which to be honest I'd forgotten I'd ordered! I used to get them ages ago, and they sent me an email offering me three boxes half price to get me to give them another try.
For lunch, Toby and I shared the cheddar and red onion focaccia...
and the fruity ploughman's bites...
Please excuse Toby's dirty fingernails - chocolate from the macaroons!
I also snacked on a few crispy bits that my Grandma brought round for us - she had them leftover from a bridge evening with her friends, so she'd just chucked them all together and gave them to us so they didn't go to waste.
I love the Japanese rice crackers and Toby liked the cheese sandwich biscuits.
I have a confession to make...yesterday morning I went to Lidl (mistake #1 - going to the supermarket with an empty stomach!) and I ended up buying these...
At first I looked at them and thought to myself "it's not even October yet!" but then I saw another woman pick some up, and next thing I knew I was buying them!! At least I only bought the things that I know I love from last year, but they're are also both things that Liam wont eat so, yeah, oops. I've managed to resist opening the gingerbread hearts yet, but I ate half the pack of mini stollen bites whilst preparing dinner!
Mmm, I love stollen. I used to buy a whole log of it, but as I'm the only one who eats it, it got a bit dry by the time I got to the end. These, however, seem to disappear much quicker! I might try to make my own this year - more marzipan would make them even better!
Dinner was the only actual 'proper' meal yesterday, but it was well worth the effort. I wanted to make sweet and sour tofu, and was going to make up a recipe for the sauce but decided to quickly check Mama Pea's blog first. Way back in December 2009 she posted the recipe, so I enjoyed reading the post too as I wasn't reading blogs back then. Here it is -
Mama Pea's Sweet and Sour Tofu
. I only used peppers and pineapple in the sauce, and then served it with egg fried rice with peas.
The photo doesn't do the meal justice as my kitchen was really dark, and I was really hungry. But it was delicious. Liam said it might even be better than a takeaway - praise indeed from him!! :)
That was the end of my eating yesterday - I felt pretty full after eating dinner, so didn't feel like snacking in the evening. Rare for me, but I'll take it, I think I did enough snacking yesterday anyway!

What was the best thing you've eaten recently? Do you make sure to eat 3 (or more?) proper meals each day or do you just go with it if you're feeling in a snacky mood? I do normally eat breakfast, lunch and dinner, but with Izzy being at school and Liam being out all day now, my meals have got a bit less structured. We still always eat a proper dinner though - sometimes the only chance we all get to sit down together so it's nice to have a quick catch-up!