Happy WIAW everyone! Lots of thanks to the
lovely Jenn
! :)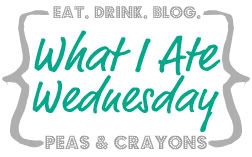 This week's post is based on Monday's food - purely because yesterday I was too busy running around to take many photos! Monday's foods were much better recorded.
I managed to find time to have breakfast before taking Izzy to school on Monday. Helped by the fact that I wanted to try out the new cereals I'd won in
Maria's
giveaway. Nature's Path gluten-free O's with milk and raspberries:
Not surprisingly, Monday's snacks consisted of lots of the
white chocolate Oreo fudge
that
I made on Sunday.
The whole batch is gone now, whoops.
This was
so
good. When I ate some on Sunday night it was a little bit too sweet, but once it had chilled overnight it hardened up a bit and the white chocolate flavour became much more prominent. Still sweet of course, but no longer so sweet that you could only eat one or two pieces at a time. *ahem* clearly - Liam was quite shocked at how little was left in the tin when he got home from work!!!
Not completely food related, but I also bought some new knives on Monday...I'm hoping these will give me the extra strength to be able to chop up my own squash!
So pretty! And they were half price too...I do love a bargain! I haven't actually had a chance to try these out yet as the man who sold them to me told me that glass chopping boards damage knives...ooops...need to buy a wooden one!
Lunch was this, x2:
I baked up one mini baguette which I had with the spiced plum jam, and then I couldn't resist baking another one to have with Brie cheese...yum!
Despite the number of pans I still used (Liam has decided he's "allergic" to brown rice so I have to cook white for him!!), dinner didn't feel too intense to make as the main part came from the freezer. Lentil daal, brown rice, boiled eggs and peas:
Yum. I hardly ever cook this as I get put off by the long time the daal takes to cook. Luckily last time I made it I made a double batch, so this daal just required re-heating :)
I have no photos of an after-dinner treat and I can't remember what I ate...I'm guessing it was probably more Oreo fudge! That is the problem with making treats "for Liam" - I easily end up eating half of the batch myself!
What was the best thing you ate today? Do you prefer to have sweet snacks or savoury?
I'm normally most drawn to sweet treats (see the fudge ingredients - sugar, sugar, sugar!!) - I definitely have a sweet tooth! Even my "healthy" snacks tend to be on the sweet side - apple with peanut butter, medjool date with peanut butter etc...does carrot sticks with houmous count as savoury? That I can do! :)