Avocado Baby
is one of Izzy's favourite books - she loves the idea of avocado making the baby super strong! More relevantly though, I ate lots of avocado yesterday, yummy! It's that time of the week again -
What I Ate Wednesday
- with thanks to
Jenn
for getting us all organised :)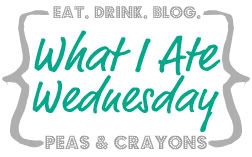 I started yesterday with a very messy yoghurt bowl...
This was frozen mixed berries simmered on the hob with a bit of sugar + Yeo Valley mango and vanilla yoghurt...it tasted a lot nicer than it looked!!
Another Graze box arrived for me yesterday...
I had the toffee apple one as a morning snack...
Tasty, but I would have liked more toffee sauce - like dulce de leche, yum. The honeycomb flapjack also snuck its way into my mouth at some point yesterday - they only one of this box I'd had before, but luckily it's one of my favourites :)
Lunch was where the avocado started coming in - half an avocado with two digestive biscuits and brie...
The avocado clearly needs no explanation, and the brie/digestive biscuit came about when Liam was making his brie & grape sandwiches the night before, and I remembered how I always used to love brie on digestives. I think I must have put butter on the digestives in the past as these were a little dry, but that was easily remedied by slicing some of the avocado to put under the brie. Delish. I adore how creamy avocado is.
Indeed, today, I ate half of another avocado, just standing in the kitchen, eating the peeled avocado half a bit like an apple. Munch, munch, munch. Is that weird? I find it so much more satisfying than, say, chocolate, but I usually do go for the ease of chocolate. Cutting an avocado in half and peeling the skin off is hardly time-consuming though is it, I must have that as a snack more often!
I can't really tell you what I ate yesterday afternoon as for the first time in ages I've haven't been writing down what I've been eating this week. I usually start a new 'note' on my phone each day and write down the exact times and measurements of everything I eat. Boring. So this week I have been giving myself a break from both weighing myself, and recording my food. I know I ate the Graze honeycomb flapjack, but there was probably more as well!
Dinner used up the other half of the avocado. We had quesadillas. The others always have tuna mayo with sweetcorn in their quesadillas. Normally I have mozzarella with spinach and pesto or something like that, but this time I had avocado, sweet chilli sauce and grated cheddar...
Behind the scenes shot: most of the photos I take during the daytime have Toby lurking nearby ready to pounce and eat my food!
I didn't eat anything after dinner last night as a) I went out with my Mum to some craft fair thing for a little bit (luckily coming back in time to watch most of the Great British Bake Off final!) and b) I drank a whole pot of coffee during the day which gave me a tummy ache. I ended up not being able to get to sleep until 2am because of the pain - hence this post being a later one - I decided sleep was more important when Toby napped this morning!
Do you normally write down everything that you eat each day, or some days, to keep an eye on things? Or do you just eat whenever without worrying or recording it?
I don't usually stop myself eating anything (although perhaps I should!!) but, like I said, I did always keep a note of everything that I ate on my phone. I'm enjoying the freedom of not writing everything down, but my memory is so rubbish that, with the exception of main meals due to a menu plan, I genuinely couldn't tell you everything I ate today. As I am still supposedly trying to lose weight, I do think I should probably keep some kind of an eye on what/how much I'm eating, but I'm not really sure what the middle ground is between obsessively recording everything, and recording nothing so then absentmindedly eating everything!