I've decided to join in with all the
What I Ate Wednesday
posts that I've been seeing on people's blogs lately.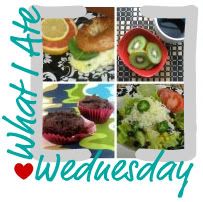 I enjoy looking at what everyone else eats, so it makes sense right?! Except that today, with the exception of dinner, my eats have been boring/non-existent!
So, let's start with that dinner. I bought a butternut squash a couple of days ago and wanted to use that, but fancied something different than my usual (albeit delicious!) butternut squash risotto. After a quick search on
BBC Good Food
, I came across a recipe for
Vietnamese Veggie Hotpot
.
I substituted the green beans (which I don't like) for frozen edamame beans and instead of using the half butternut squash to make 4 servings that the recipe called for, I used a whole butternut squash for 3 portions…oink!! :)
This was delicious, I loved the slightly sweet sauce. I ended up cooking the first stage (before adding the soya beans) for longer than the recipe said as I forgot to put the rice on first (whoops) but actually this was a good thing as it made the butternut squash nice and soft, yum.
So the rest of the day…
Breakfast was an unpictured latte as I didn't get round to eating anything else. Silly as I love breakfast! I made up for it with a smoothie for lunch instead. I had this smoothie yesterday too…delish.
Chocolate Peanut Butter Smoothie
1 medium/large banana
40g spinach
100ml milk
20g cocoa powder
40g peanut butter
15g sweet freedom, or other sweetener to taste
xanthan gum
I didn't take a photo today as we were in a rush to go out (I told you today wasn't a good time to start WIAW posts!!) so I'll show you a photo of yesterday's instead, which was the same except 150ml milk and no xanthan gum so I could drink it from a glass (x2 of course!)
Today's version was eaten from a bowl…both were absolutely delicious…any excuse to eat chocolate and peanut butter is fine by me!!
This afternoon we met up with some friends and headed to the beach. The weather was good, but kept randomly clouding over, so we opted to eat chips and ice cream rather than go swimming in the sea.
I skipped the chips in favour of a latte, as I wasn't sure they'd be gluten-free, but I did enjoy some ice cream afterwards. The ice cream shop we went to states that most ice cream flavours are gluten-free and highlights the ones that aren't. Ideal. I shared a tub of honey & stem ginger with baby.
This was good. Sweet but not too sweet, with lots of chunks of stem ginger running through it. Ice cream on the beach = summer! I love this view…
We're so lucky to live so close to the seaside, I'm looking forward to many more trips to the beach this summer!
And so that concludes my first ever 'What I Ate Wednesday' post…I hope next week will give a better reflection of my day-to-day food – my meals are normally a bit more structured than today!!