Hello everyone! Happy
What I Ate Wednesday
! Thanks as always to Jenn - if I've been having a bad week, WIAW always gets me back posting on the blog :)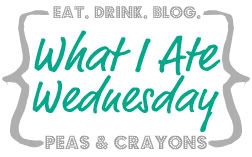 Sorry for being absent the last couple of days - these last two weeks of term are so hectic - we/Izzy has something on every day! I haven't been eating too well the last couple of days either (ie coffee + lebkuchen + cake all day, and then a proper dinner with the family in the evening) and haven't been taking photos...so I've decided to do this WIAW post based on the food I ate in Bath this weekend. I'll hopefully also find time to write another post on shopping/sights in Bath tomorrow - we took so many photos in the 2 days we were there!
But WIAW is about the food, so the food is what I will talk about! :)
On
Saturday
morning, we all had breakfast at my Dad's house. The others had cereal, but I didn't fancy coco pops or rice krispies, so I ended up having a fruit bowl. I'm so used to having a kitchen full of oats/peanut butter/yoghurt etc that it was a bit weird having a limited choice of food. Good though, as it meant plenty of room for snacks later! This little fruit bowl kept me going til then - satsumas, banana and grapes:
On Saturday morning, my Dad looked after the kids at his house (while Toby had his nap) which meant Liam and I got to explore the markets for a couple of hours ourselves. We bought some caramelised almonds for a snack:
and we also had a couple of hot drinks to keep our hands warm. Hot chocolate with a shot of amaretto in (
amazing!!
I might have to buy some amaretto for this purpose at Christmas!) and a chai tea latte at Starbucks:
I'd only had the Starbucks' chai latte iced with vanilla syrup before. I now understand why, towards the end of summer, that was getting too sweet for me - this was plenty sweet enough without any added syrup or sugar! Delicious though, glad I finally tried it!
About 1.30pm we met my Dad to get the children back. He was going to watch the rugby, and we went to have lunch. I chose the cafe that we ate in purely based on this sign outside:
Pieminister pies
! I had a Heidi Pie
at Exeter Food Festival
and loved it, so that was what I chose for my lunch on Saturday, with mashed potato and vegetarian gravy:
Mmm, love this. Sweet potato, spinach, goats cheese and red onion in a pie is a very good idea! I don't actually normally love pies, even when I ate meat, but this filling has so much flavour...divine! :)
After lunch, we wandered around a couple of shops but the children were getting tired so we went back to Dad's house mid-afternoon to watch a DVD and feed the children. Liam and I were going out for dinner. I had been looking forward to this for ages as we were going to
Demuths
- a vegetarian restaurant in Bath. We hadn't been able to book a table until 9pm though, so as well as looking around the markets some more, we also went for one cocktail. I had a Twinkle Berry - I'd mainly ordered this for the strawberry candy cane decoration, but sadly they'd run out. The mix berry vodka, amaretto, strawberry puree and cranberry juice was tasty though:
Just before 9pm, we headed to
Demuths
. For my starter, I chose the "Kohlrabi - glazed with orange and ginger, with a tamari reduction, spring onion and crispy cabbage":
This was quite nice, but the glaze was a bit too sweet for me. I was very jealous of Liam's starter - which I had also chosen but "given" to him as the safer option - "Celeriac Veloute with fresh ewe's cheese croquettes and cavolo nero". I definitely had a couple of spoonfuls of this!
Mmm, this soup was so creamy, and I loved the cheese croquettes too!
Liam and I both chose the same thing for our main course - "Applewood Smoked Somerset Cheddar Souffle served with red wine baked figs, tarragon dressed potatoes, walnut puree and a selection of winter greens from the fields of Bath".
We both loved this, so delicious. Liam doesn't like figs so I got extra after this photo was taken - fine by me! The creamy sauce on the potatoes was great, the souffle had a great flavour and texture and the cabbage did a good job of freshening up the plate. The walnut puree tasted a bit like houmous so I'm sure we can all guess that I loved that too! Definitely glad I chose this.
For dessert, I chose the "Cashew Coconut Cream with clementine, clove and praline":
This was really good. I loved the consistency of the cashew cream, and it had a layer of clementine puree in the middle which I hadn't been expecting. My only slight criticism would be that I would have liked it to be a little sweeter...but then I do have a very sweet tooth!
I did, of course, also sample Liam's dessert - "Rich Chocolate Mousse on a chocolate sponge with chestnut and orange puree and a fennel seed tuille":
Liam really enjoyed this which was great - I was a bit worried going in to the meal that he wouldn't find things he liked! I quite liked this but overall think I preferred my own dessert (yey!) and, again, would have preferred the chocolate mousse to have been a little sweeter! I am clearly used to way too much sugar!!
Overall it was a really lovely meal, we would definitely go back again. Next time I would order the starter that Liam had, and I'm hoping that once the Christmas Menu finishes they will have a squash dish back on the menu. I can't remember the exact details, but it contained squash cooked three ways...yum...but sadly it seemed to be the only main course that didn't make it to the Christmas menu! Oh well, the souffle was lovely anyway, and it gives us a good excuse to go back again next time we're in Bath! :)
*****
On Sunday,
I persuaded
Liam offered to go to Starbucks to get us breakfast. I had a gingerbread latte and a cinnamon roll:
Mmmm, definitely a more luxurious way to start the day! :)
We spent Sunday morning relaxing at Dad's flat while Toby napped. Last time we were in Bath we ignored Toby's nap time - hoping he would sleep in his pushchair while we were out and about. He didn't, and it was awful. So this time we stuck to his routine, and it meant that the times we did get to leave the house were much less stressful. Izzy always used to sleep in her pushchair no problem, but Toby is used to sleeping in a cot so refuses to sleep anywhere else! Ooops, I think I may have spoilt him a little! Izzy went to nursery from the age of 6 weeks as I was at uni. She loved it there and it made her really sociable from very early on. Whereas Toby spends all of his time with me, and as a result doesn't seem to adapt so easily to change! Ah well, they all get in the end...I hope!
Once Toby did wake up, we went for lunch at
Las Iguanas
with my Dad. It was buy one, get one free on cocktails, but I stuck to a non-alcoholic one - Raspberry Cooler - which was fizzy raspberry and elderflower. Pretty in pink!
Rubbish iPhone photos here - camera battery died!
For my starter, I had a pear and brie salad:
This was a little too spicy for me which was a shame, the flavours that I could taste were nice though.
For my main course I chose five mushroom fajitas...these tasted a lot better than this picture would suggest!
Hidden in that picture are lots of mushrooms, peppers, onions, sour cream, salsa, guacamole and cheese...I love Mexican food!
We didn't have dessert as Toby was playing up a bit - Liam and I spent most of the meal taking it in turns to eat a few mouthfuls while the other one entertained Toby...trying to eat out with toddlers is no fun!!
That meal was the last thing we ate in Bath. After lunch we wandered around the Market a bit more to buy the last of
our new Christmas Decorations
, and then we headed back to Dad's house to pack up. We got back home just in time for dinner, but that was just fresh tortellini with ketchup and cheese, so I didn't bother to take a photo!
Do you like eating out at restaurants? What is your favourite type of restaurant to eat in?
Liam and I decided on Saturday night that we eat way too quickly - we're so used to eating at home with the children I guess. When we went to Demuths, the couple at the table next to us were already half way through their mains, and yet we still managed to finish at the same time as them - having eaten 3 courses in the time they ate 1.5! We do like eating out though, especially without the children, it's so nice to be able to enjoy the food without worrying about what the children are up to!! We normally end up eating at South American or Asian restaurants so that we've both got a wide range of food to choose from. I'm glad Liam agreed to eat in Demuths though - even though it's not the type of food he'd normally choose when eating out, it was really good and somewhere I'd been wanting to go for ages!