Hello! Happy
What I Ate Wednesday
! Thanks as always to Jenn, and congrats on turning 50!! ;-)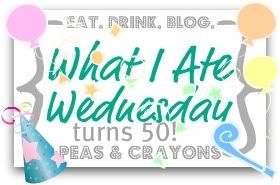 As well as being WIAW's 50th, today is a very special day. It is my last day as a Mother of a one year-old... I can't believe Toby is going to be two tomorrow!!
My eats therefore haven't been quite as "clean" as I would like them to be today - because Izzy is back at school tomorrow, we started celebrating Toby's birthday early!
Liam had booked the day off work both today and tomorrow, and the children didn't wake us up until 8.50am this morning...bliss! Except we then had to rush to go get ready to go out, so breakfast was a quick bowl of Maple Sunrise with milk and sliced banana.
We then went to meet some friends who both have a child Izzy's age and another child slightly older than Toby, so they all get on really well together. We played in the outside play park for quite a while before the rain started.
And then headed inside to have lunch. Worst photo ever as we were in such a rush this morning that I didn't have time to take a photo of my lunch at home. I had mixed quinoa with raw red pepper, cold basil tofu and goats cheese. Plus a box of seaweed rice crackers, and quite a few unpictured chocolate 'animal' biscuits, oops.
After lunch we went for a walk outside to see the ducks and burn off some energy.
We then said goodbye to our friends and rushed home as we had family coming round for cake and birthday presents...and balloons!
After opening some presents...
My Dad bought Izzy a magazine so that she wouldn't feel left out!
it was time for cake :)
You can see some more (better - this one was a bit rushed!) photos of the cakes on my
Facebook page
, I made a lemon drizzle cake for the main cake (with lemon sugar drizzle on top of both layers, lemon butter icing in the middle, and lemon glace icing on top...I do like my icing!!) and also banoffee cupcakes (banana cake, toffee icing)...
I chose to eat a cupcake which was delicious...
Liam did the icing - he has a much steadier hand than I do!
and I also tasted a few crumbs of the lemon cake which was amazing - a nice zingy lemon flavour! My Grandparents are all coming round to see Toby tomorrow, so I will probably treat myself to a slice of the lemon cake then :)
I ended up having a 2nd cupcake as well as Izzy had eyes bigger than her tummy and after eating a slice of lemon cake, and then licking half the icing off the cupcake, she decided she didn't want it after all! I was the only one who would consider eating it & couldn't bear to see it going to waste!!
The party only finished just before the time we normally eat dinner so Liam and I didn't eat until after the children were in bed. Quick dinner = cheese on toast.
Hopefully that will be all I eat today. I'm still feeling quite full, and with it being Toby's actual birthday tomorrow, I'm sure more cake will be in my future then. I'll get back on track properly on Friday when normal routine (Izzy at school, Liam at work) will resume!
What would be your favourite type of birthday cake? Big cake or cupcakes?
I love all cake, but I think carrot cake would be my go-to favourite. But neither Liam or my sisters would eat that, so I've learnt to tame my baking down! Liam really liked both the lemon cake and the banoffee cupcakes though which is good - leftovers disappear much more quickly if he likes it!!